If your goal is to understand consumers today and appreciate drivers of behavior or decisions, it is imperative to understand generational tendencies.   Some universal human traits are constant:
Language is a primary form of communication
We identify by name and label
Laws govern us
Rites of passage are acknowledged (and often celebrated in many cultures)
Congregation occurs in peer groups, in addition to families
And of course, the ever famous:   Maslow's Hierarchy of Needs!
Additionally, all humans tend to view others through their personal lens, that is, we often project our own beliefs and preferences presuming others share similar views.   Humans have a propensity toward vanity, believing we are personally easy-on-the-eyes, and filter what we find attractive based on our own physical traits.
Those commonalities (among many, many others) aside, valuable insights are gained when we understand the landscape and influencers of each generation.   See below for projections of the US population as we approach 2020:

According to Joni Daniels, management and training executive extraordinaire, generations approach all things with a different posture.   Below appears an example, in general, about how generations approach work: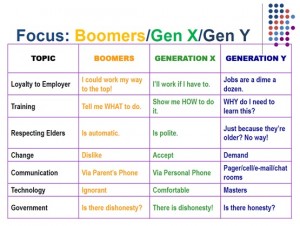 Look for the next issue of Perspectives where we dig a little deeper, generationally speaking!