Millennialism… yes, it is a word.  Should other generations be jealous?  Not so much!  It is the mere size of this generation that causes our society such fascination, with warranted merit.  An estimated 85 million millennials, born between 1980 and 2000, comprise the largest generation in US history.   Millennials, with their $200 billion influence to our economy might demand attention, but it is the other generation, Baby Boomers, who might be worthy of devotion.  Currently, Baby Boomers along with their senior Traditionalists yield the largest influence and biggest bank accounts in the US, by far: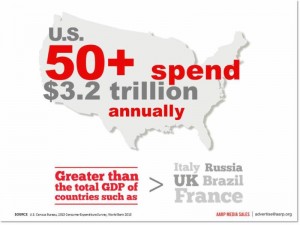 Further, according to Huffington Post, Boomers are drinking the proverbial "fountain of youth" and living longer than ever before.  In fact, Americans are living three decades longer now than they did a century ago.  Boomers are not just living longer, they are living better, feeling more youthful than their predecessors and remaining engaged, active, and fulfilled.
Marketers who wish to garner this rather affluent generation will be wise to understand some habits, especially Baby Boomer's digital habits:  
1 in 5 Twitter users are over the age of 50

 

Boomer's time spent in an average week online is 27 hours

 

27.4 million Boomers connect via social media

 

$7 billion dollars were spent online by 50+ in 2012

 

80% of all luxury travel purchase online is made by adults 50+
That said, Baby Boomers (similar to their millennial children) are not easily wooed.   According to  Jennifer Lonoff Schiff, although Baby Boomers engage online, loyalty is acquired by companies who market to them thoughtfully.  Marketing advice from CIO.com includes:  
Understand… all boomers are [not] alike.   "As with marketing to any large group, be careful to not cast a net that is too wide," cautions Linda Pophal, owner, Strategic Communications.  Be strategic about understanding nuance differences with Boomer segments.
Show you care and understand… be relatable.   "Strive to be honest… upfront and factual about your product offerings," advises Sandra Powers, Internet marketing manager, LawyerReviews.com…  "have a rich 'About Us' page. Include pictures of your staff," suggests Danielle Kunkle, vice president, Boomer Benefits, Medicare supplemental insurance.  Boomers "value businesses that care about their community…  show them your philanthropy."
Skip the hard sell. "Most Boomers do not want to feel like they are being 'sold' something," says Billy Bauer, marketing director, Royce Leather.   Explain… the value of your product or service without being pushy or patronizing.   Remember, Boomers "do their research [to] make an informed decision…" and Boomers like to inquire, so "make it clear you are available to answer any questions."
Focus on benefits, not just features.   "Focus your messaging on how your product or service solves a problem vs. pushing features and specifications," advises Craig Hood, executive vice president of Allegro Medical.  "Boomers are smart, know what they want, and are not afraid to pay for it.  Tell the story of how your product makes life easier, better, or more enjoyable."
Create an online sales process that is easy and secure.   Make it easy for Boomers to find what they need… purchase…  with as few clicks as possible — while letting them know their credit card and personal information is secure. "Make the checkout process quick, not too many pages, with very quick load times," says Kenny Kline, CEO, Slumber Sage, an online sleep and mattress guide.
Make it easy to communicate with you.   Include [easy-to-access] contact information — a phone number, email addresses, social media links — on your website and marketing materials.  Respond promptly to people when they reach out to you with a question.  "Do not discount the power of the telephone,"  says Edward Nevraumont, CMO, A Place for Mom.  "Even Expedia still does 25 percent of its bookings over the telephone.  And…  don't forget about social media.  Facebook is a great way to have a conversation."
Build a referral program.   "Boomers are… likely to come from referrals," [Hood]. Do a great job for customers…  then ask them to spread the word through their personal networks…  "Make it easy to share a product or service through email, or social media."  Also, consider rewarding customers with discounts or perks for referring family members and friends.  Boomers love to feel special — and that they are getting a good deal.
[Incorporate]  'old  school'  methods in the [marketing mix].   "Social communities like Twitter, Facebook and YouTube are not the [only] way to reach… the Boomer demographic.  We use old school delivery methods like direct mail and print brochures,"  according to Powers, which [can be] more effective with older Boomers.  Remember, do your research regarding the best channels and methods to reach your target audience before committing tens of thousands of dollars… to a particular method or message that may not be effective.
Respect privacy.  When collecting data… keep in mind that "Boomers value their privacy," says Aaron Tellier, vice president, Insurance and Wealth Management, Merkle.  "It's important to seek… permission before utilizing… information… that assumes some level of intimacy…  A few complaints can easily derail an otherwise well-conceived marketing program."
Seeking to deepen your generational insights?  Be sure to read next Tuesday's Perspectives!