So the saying goes, "What doesn't kill you makes you stronger." Then, how does it make you feel when you share an experience with others who have experienced something similar?
According to a few savvy Australian researchers Shared Pain Increases Cooperation. These researchers describe cooperation to dig deeper into the social effects of pain. Through experiments measuring outcomes of various groups, researchers found cooperation emerges as significantly greater within groups of people who share similar experiences.
Many human communications' researchers surmise the quality of interactions between humans who share common experiences yield deeper insights. For qualitative researchers, these findings support our goals to humanize our clients' worlds with the sentiments of their target audiences. To gain richer insight into the spirit, sentiment, and nuance of behaviors relative to clients' product, service, or message best practices are to segment by experience, or other commonality such as attitude or habit.
How does the power of shared experiences drive a deeper connection between people? That connective power is derived from the 'you've been here too' emotion causing a bond that cannot exist without the experience. Shared experiences foster companion-actualization in the space of that circumstance. Recognition that one is not alone with these feelings creates a comforting acceptance of self with those who share the experience.
According to Maslow, self-actualization can only occur when other needs are satisfied. So then what elements are necessary to foster companion-actualization? [Image credit: Dr. Deanna Manfredi]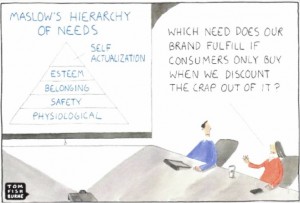 As ideation sessions and focus groups are the most effective methods to derive profound sentiments, how do we ensure companion-actualization?
1. Incorporate experiential questions into your participant screening process and segment by experiences.
2. Host discussions in a comfortable environment such as a family-room setting.
3. Prepare creative exercises to elicit shared experiences early in discussions.
4. Practice empathy when sensitive information is shared and plan for time if you anticipate participants will need to regain their sense of stableness before departing.
Nurturing social glue through companion-actualization will assist us in moving clients' objectives forward. As we foster these deep insights our own world is enhanced. How lucky are we?