The use of focus groups to inform effective decision-making is thriving due to the method's power to discover unique insights. Provided your researcher is well-armed, the dance of psychology and sociology in face-to-face interactions yields nuances and sentiments absent from other methods. Much of this interpretation and response requires active listening, the ability to realize non-verbal cues, and agility in navigating client objectives to valuable outcomes.
To deepen discovery, we find pre- and post-group assignments add significant value. Success in using these techniques is experienced across demographics, segments, and categories. The processing of the topic or subject matter intensifies engagement and extends participants' contributions often to a profound level.
There are various exercises you can assign to participants (or clients) to begin topic/category/experience processing before discussions. Likewise, the same techniques can be used subsequent to discussions obviously incorporating deeper discovery points and perhaps even questions left unanswered post-research. Rationale for incorporating pre- and/or post-group exercises:
It expands the data-gathering opportunity beyond two-hours spent together in a traditional focus group window.
Pre-work allows participants to process the topic before they arrive, and post-work captures POBA's [perceptions, opinions, beliefs and attitudes, a RIVA acronym] processed after they participated in the discussion; both result in deeper insights.
Engagement in the discovery process takes on a personal conviction.
Our favorite pre- and post-group data gathering methods use technology, but can be adapted to hard copy methods if a segment finds completion easier. We have found these methods to be highly accessible and user-friendly, with an added bonus of ease of reporting. It should be noted that use of these methods can be standalone and as a supplement to other hybrid projects.
Mobile journals. Participants diary any experience, product or service utility, shopping excursion, or virtually any event with your instruction. We have them use the notes feature to document thoughts or feelings. You can pay a vendor for a more sophisticated documentation tool. The learning curve for some respondents makes the snap a pic and note method most appealing. You can also simply request participants capture something project-related in their daily life and bring it to the focus group. A picture IS worth 1000 words… and elicits participants' rationale or conviction it represents.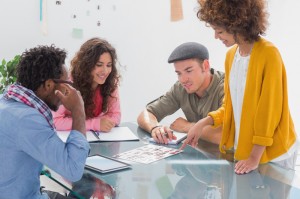 Bulletin boards. Similar to an online group chat this platform provides an ability to post specific questions and understand the landscape before the discussion. It is important to understand the variety of participant posting options. Participants can respond without seeing other participants' responses initially, by question or topic, then once posted are able to view and comment on others' posts. In an open forum, participants view all comments and respond.
Our clients now rely on these types of innovative techniques to add value to the focus group or interview process. The data gleaned enriches discovery and deepens clients' ability to understand their audiences and formulate outcomes that thrive.
The Research Group is innovative, customizing research approaches to yield insightful discoveries.