Google Glass is a wearable computer that can be utilized in just about every industry, and the application possibilities are endless! An ability to view the world in real-time, often from a behavior side of the lens, elevates a researchers ability to provide unique data, and unbiased experiences. The buzz has generated a frenzy for developing new and innovative ways to use this remarkable technology.
A most promising area for Google Glass is health care. CEO of rbV3, Richard Vanderveer, Ph.D., believes emergency medicine is an area where all of us might benefit. For example, EMT's equipped with Google Glass in an ambulance can transmit patient symptoms real-time to an emergency department doctor who can provide specific life-saving instruction. As it is voice activated, Google Glass provides information, in this case with regard to the patient, without the use of a keyboard.
Google Glass' debut in the operating room occurred last year in 2013. Rafael J. Grossmann, MD demonstrated the use of Google Glass during a live surgical procedure. Dr. Grossmann says, "The role of Google Glass as a surgical and teaching tool is tremendous. And this is only the beginning. New applications–some we can't even imagine yet–will help transform surgery and the surgical experience."
For education, Google Glass can be an extraordinary learning instrument allowing interns and students to watch surgeries or medical procedures remotely. Professors in any discipline can wear Google Glass during lectures, so students can 'attend' class from any location. Students can also wear Google Glass to take notes, translate languages, and capture others' reactions to content presentations. The technology may bring a whole new aspect to studying abroad.
According to Emanuella Grinberg of CNN, Google Glass is being put to great use in the classroom. Online educator, Andrew Vanden Heuvel, was sent to Switzerland in 2013 to lead students on a virtual tour of the Large Hadron Collider at the European Organization for Nuclear Research known as CERN. Through a Google+ hangout, students from South Christian High School in Michigan watched Vanden Heuvel walk through the world's largest and most powerful particle accelerator.
Students were able to ask questions from their remote location and Vanden Heuvel could provide answers, all while leading the tour.
Google Glass has great potential to improve the world as we know it. Aside from health care and education, journalists and reporters can be closer to world topics and issues; giving us a front row seat to the news.
In our own discipline, market research, Google Glass' possibilities are endless, especially for anthropology and ethnography. We now can capture behavior in real real-time from the behaving human's point of view.
Google Glass is no longer an initiative of the future; it is happening now! To Become an Explorer, purchase your own pair of Google Glass at Google Get Glass.
Check out The Research Group's blog, The Latest Ethnography Tool: Google Glass'! to find out more of its fascinating features.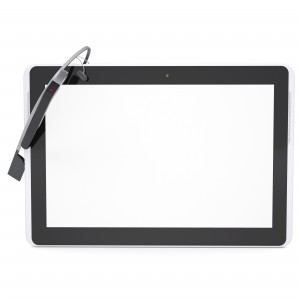 Google glasses are now being used in the classroom, educators studying their effectiveness, WPTV West Palm Beach
Inside the Operating Room With Google Glass, Forbes