One might believe the power of the word 'healthy' is quite strong.  Who knew a word that benefits our bodies as much as medicine is continuously challenged, virtually every hour, by most of humanity.  The challenge you ask?  How to incorporate healthy into the food preferences America is conditioned to love. To satisfy the pallet and provide the nutrition a healthy body requires is one of our food industries' enigmas.
Even fast food giants are attentive to our country's food-derived diseases (such as diabetes and obesity) by introducing salads, oatmeal, and fruit options to replace french fries in children's meals.  Even they have learned the healthy label can leave profits in the red.  Did anyone even notice the disappearance of the McLean burger?
Multiple studies, including Nathan Gray's Taste Perceptions' study, identify that the American culture's taste preferences are highly influenced by health perceptions as compared to other cultures.  That is, a neutral food described as unhealthy is perceived as having a better taste as compared to when it is described as healthy.
The importance of labels and preference complexities create a strong need for research in the food industry.   TRG is a partner to many food manufacturers, restaurant chains, and grocery retailers.  They use research to inform product development, as well as packaging, marketing, and brand refinement.
A unique characteristic of food science is taste testing.   As with clinical research, food research requires strict protocols as respondents digest products.  Taste tests are fascinating to conduct and for the past decade have virtually always included perceived health properties as measured attributes.
Effective taste tests incorporate the five senses:  sight, smell, taste, touch, and hearing.   Accordingly, for food product evaluations it is important to include various scales to identify insights into all rudiments.   Two types of scales frequently utilized are Appeal scales and Just Right scales.  The next time you try a new food or are interested in learning more about your pallet and preferences, pay close attention to appearance, aroma, flavor, and texture.   For example, flavor profiles can include savory/bitter/sweet scales, preferred flavor strengths by ingredient, or flavor duration and aftertaste.
Without vital feedback from taste tests, our beloved fall chai and pumpkin flavors would not be so readily available.  Thank the food goddesses for taste tests!  May the season of pumpkin-flavored everything commence!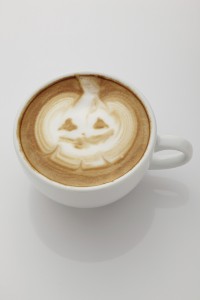 *     *     *     *
What do you know about your target audiences' preferences?   How well do your decisions support the health of your brand?   TRG's researchers are creative, agile, and available to inform effective decisions that will grow your market share!